original thread from whitearmor
http://www.whitearmor.net/forum/topic/12478-howto-easily-make-your-fx-armor-eib-acceptable/
HOWTO: Make your FX armor Expert Infantry

I get this question asked a lot so figured now was a prime time to write it up. Obviously the helmet has to go in toto, but since that's an all-out replacement and usually taken care of in one fell swoop, and the fact that most already have swapped out their helmet, I'd like to focus solely on the armor.

Despite what people may say, making your FX armor EIB acceptable actually takes little effort, money, and time. You can pretty much buy everything you need for $60 and an hours' worth of work, or if you have time can do it for about $20 and an afternoon. Let's break it down!

1. Replace the ab plate buttons
The ab plate buttons that came with the FX kits are the wrong size and color and need to be replaced. Fortunately this is pretty easy on the FX kit and you have several routes you can choose from:

1. Easiest – buy them completed.
VaderDave sells kits for $20 that are the correct size & color, and you can swap them out in about 10 minutes easily. See: http://forum.whitear...showtopic=11696

2. Next Easiest - buy plain buttons and use decals
You can buy plain buttons from Tandy. They need to be 7/16" in diameter. You can then buy decals from TK-4510 instead of painting them for $3
Button Decals : http://members.cox.n...ton_Decals.html

3. Least Easiest - buy plain buttons and paint yourself
As above, you can buy a set of 9 buttons from Tandy and paint them yourself.
Painting guide: http://forum.whitear...?showtopic=8117
Where to buy paints: http://members.cox.n...ut/humbrol.html

Maximum cost : $20
Effort : 10 minutes to 30, depending if you buy or build


2. Replace the plastic belt
Like the ab plate buttons, this is a pretty straightforward fix if you buy a belt or you can save some money and make your own.

Buying a Belt
TKKittell : http://forum.whitear...showtopic=10293
TK4205 : http://forum.whitear...?showtopic=7954

Making a Belt
HOWTO: A guide to making a canvas belt : http://forum.whitear...p?showtopic=665

Maximum cost : $40
Effort : 20 minutes or more, depending if you buy or build


3. Correctly mounting your holster
While most holsters have full straps, in A New Hope (which most troopers do) the belts are actually fastened from behind using rivets. This is a very cheap mod and you there are many ways to achieve this look.

If you are doing an ESB trooper, simply wear it on the right instead of the left ($0 cost and time). If you are doing an A New Hope trooper this look can be achieved by simply cutting off the outside strap (free, 5 minutes) and then fastening the holster to the belt like shown in the picture below as a guide: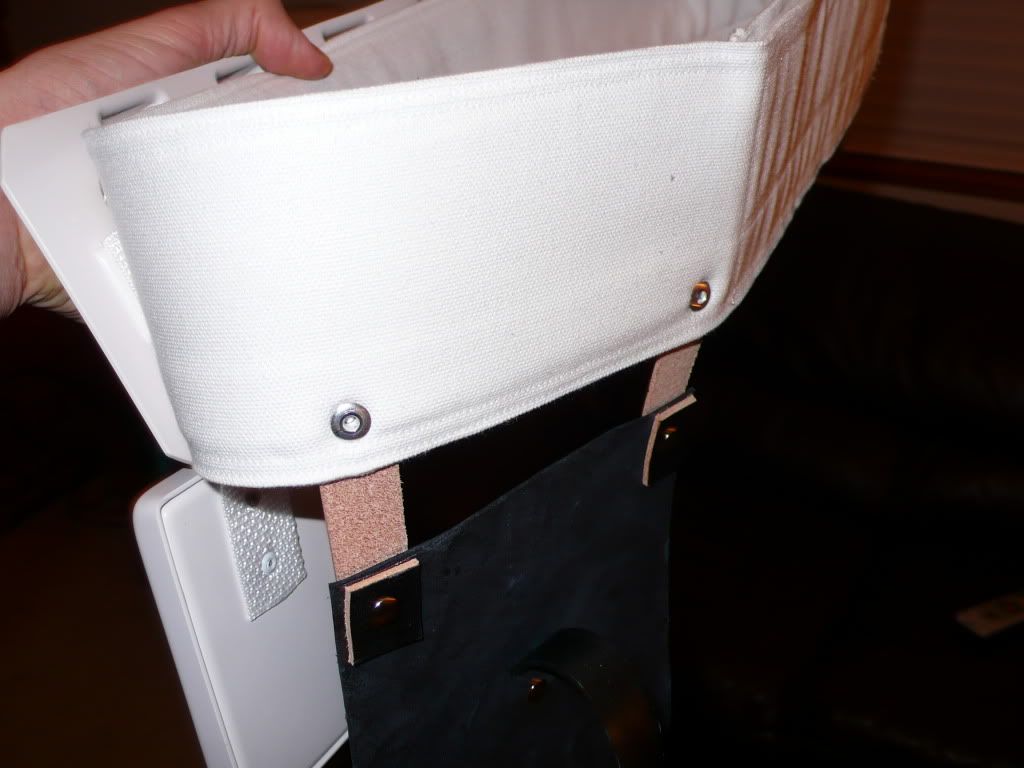 You can use rivets, Chicago screws, or even snaps. The rivets need only be seen on the outside, and you can even use velcro if you wish on the inside to make it more secure.

Maximum cost : < $5 in materials
Effort : 10 minutes or less

Pretty easy so far
So far it's been pretty easy and the above steps will instantly make any FX based stormtrooper look more accurate and impressive. Some choose to stop there, but there are two more mods that will need to be done to make that FX kit Expert Infantry.

4. Cutting the butt plate
While the cheapest mod to do, this is really the only one people hesitate on and it often takes two people to get it to hang correctly. While there is a seam line on the back of the FX back plate, it's too high and the cut should actually be lower down, about 1/4 to 1/2" below the belt. You can see this in several shots.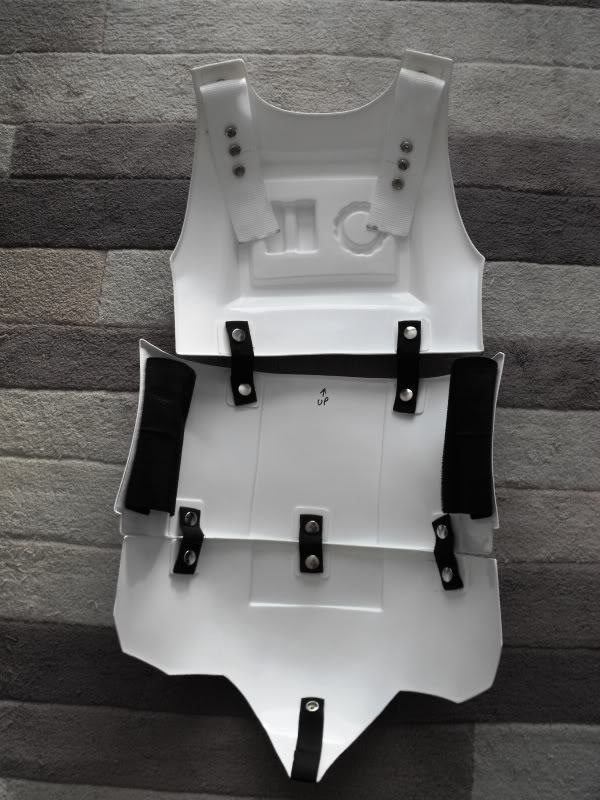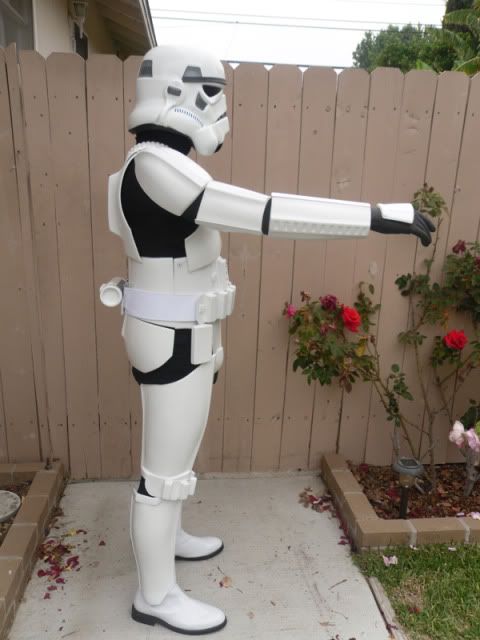 While the pictures above only show the strapping for the kidney to the butt plate, some people (including myself) also use a strap that goes around the front of the waist to keep the sides from flaring out. Ideally one could use a heat gun to properly shape it, but a strap works well too. Also depending on your body type you may have to put a little bit if padding in the b
utt plate to get it to sit correctly (OK, maybe just me and my small butt :-)).

Regardless of whichever route you go, this is an inexpensive mod in that the cost is just those pieces of velcro or strapping that you use to secure it. The time is the biggest factor, as while cutting it only takes 5 minutes it can take up to 30 to get it to sit correctly.

5. Shimming the side gaps
Of all the armor makes, the FX has the largest gap between the ab plate and the back plate. Fortunately this is pretty easy to solve with some extra plastic sheets. While clones advocate a seamless join, FISD is not so picky and simply using a plastic shim is acceptable. There are several routes that people use:

1. Buy spare ABS/HIPS from whomever made their kit (guaranteed to match the armor)
2. Buy spare ABS/HIPS from a plastics store (perhaps cheaper)
3. Use spare ABS/HIPS that they have laying around. The plastic belt that gets replaced by using a fabric belt is often an ideal candidate for this.
4. Buy a cheap plastic sign from a home improvement store and paint it to match

To secure it you can simply use velcro or else use rivets. Here is a photo of a completed side gap:


Here is a simple fix that a person used as a starting point. Remember it just needs to look good from the outside though it's always a good idea to make these changes more robust as time and budget allow.

Conclusion
And that's it! It may seem a lot at first, but after going through it you'll wonder what all the fuss was about. Whether you decide to buy everything you need or create all the pieces from scratch, these changes will really make your FX armor kit pop and breath new life in to it, allowing for many more years of enjoyable trooping to come.

Where to go next
I'd like to encourage those that haven't taken the plunge to make these changes to do so. Making your FX Expert Infantryman qualified actually is relatively inexpensive and not that hard.

Not enough you say? Yes, there is even *more* you can do to pimp out that FX kit, from adding side snaps on the ab/kidney to adding return edges to the chest and other parts, but these aren't required for EIB.

What do you think?
Everyone - we on FISD staff would love to hear what you think of the above. Was it easy to follow? Did you like the changes once done? Let us know!